If you have been in a collision in Vaughan or the surrounding area, and you need to have your vehicle repaired, experience the difference by having it repaired at Pfaff Autoworks. Pfaff Autoworks is located in Vaughan on 214 Courtland Avenue, and we take great pride in being able to service the vehicles of Vaughan residents, and residents of the surrounding area.

At Pfaff Autoworks, our team of professional technicians are very capable of performing the highest quality repairs on our customers vehicles, no matter how minor or major those repairs may be. A majority of our business at Pfaff Autoworks comes from our new Express Repair Service. If you have been in a minor collision in Vaughan, or you need to have a dent or scrape pulled or buffed out etc. our express repair service can have your vehicle repaired in 3 days or less. We understand that people rely on their vehicles, and being without one can be very inconvenient. If you are looking for a quality facility to have your vehicle repaired after a collision in Vaughan, experience Pfaff Autoworks Express or Regular Repair Service today.
Collisions in Vaughan do happen from time to time, and they can be very unexpected. The damage can be minor or severe, and can occur anywhere on your vehicle depending on the type of collision. Some types of collisions include:
Rear-end Collisions:
Traffic accidents that occur when one car crashes into a car in front of it. Rear-endings can be caused by sudden deceleration by the first car, or when the following car accelerates more rapidly than the vehicle in front of it.
Side Impact Collisions:
Also called a "T-bone" collision, or being "broadsided." These occur when the side of a vehicle is impacted by the front or rear of another vehicle or a fixed object.
Sideswipe Collisions:
These collisions are typically when the sides of two parallel cars touch and "swipe" each other.
Head-on Collisions:
These collisions are when the front ends of two vehicles hit each other.  
Single Car Collisions:
These collisions occur when only one vehicle is involved. In some cases a vehicle strikes other objects such as poles, trees, fire hydrants, walls, or other objects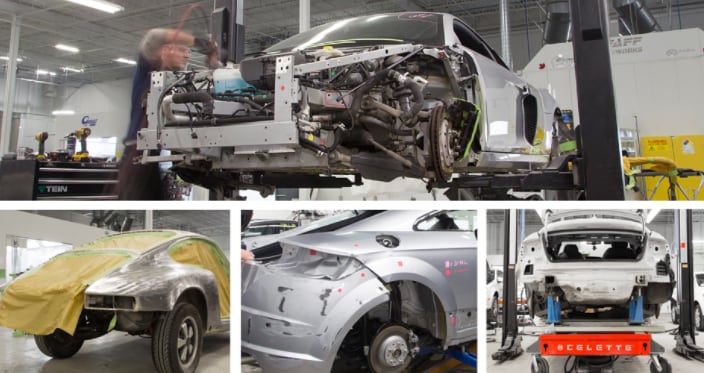 For more information on the repair services at Pfaff Autoworks and how we can assist you after a collision in Vaughan or the surrounding area, please feel free to continue browsing through our website. You can also find more interesting content, much like the page you just read, by visiting our blog page. Contact us at 1-866-674-3927, or by filling out our
contact form.