When you're looking for vehicle repair centres near Markham and Vaughan, Ontario, you'll want to select one that uses genuine parts and is certified. That leads you to Pfaff Autoworks.
Having your vehicle repaired at a certified collision centre ensures a high quality and efficient repair. We'll work with your insurance company to quickly return your vehicle to the road.
Certified Collision Repair
Our collision centre is certified by VeriFacts. VeriFacts is an independent, third-party certifier of collision repair excellence. Earning a VeriFacts certification means that our collision centre has consistently provided high-quality repairs promptly.
We restore vehicles to factory crashworthiness, so you'll be safe if another accident occurs. All of your safety features and sensors will function properly once we complete our repairs.
In addition to the VeriFacts certification, we are an authorized collision repair facility for several different vehicle manufacturers, including Audi, BMW, Acura, Honda, Nissan, INFINITI, McLaren, Volkswagen, Chrysler, Dodge, Jeep, Ram, Porsche, Tesla, and MINI.
Comprehensive Vehicle Repair
Peel away the skin of a modern car, and you'll find a network of wires, motors, sensors, and switches, held together with advanced materials and construction. That's why a modern collision-repair facility like ours is so important. We understand how all those systems work together and how to repair them to function properly again.
We're responsible for your entire vehicle, not just for bringing your car's body back to cosmetic perfection; we have to ensure all of the systems inside are functioning as well.
Our collision repair centre offers a range of services, including free estimates, windshield and glass repair, as well as dent removal and detailing.
Electric Vehicle Repair
Our collision centre takes care of many different types of vehicles, including electric and hybrid models, and we're Tesla certified. Electric cars require specific equipment and procedures to ensure your battery stays in good shape. Our team is up to the task.
We have the equipment and training to work with electric vehicles at our repair facility. We also have chargers onsite to keep your battery well-charged, so you drive once your car is ready for pick up.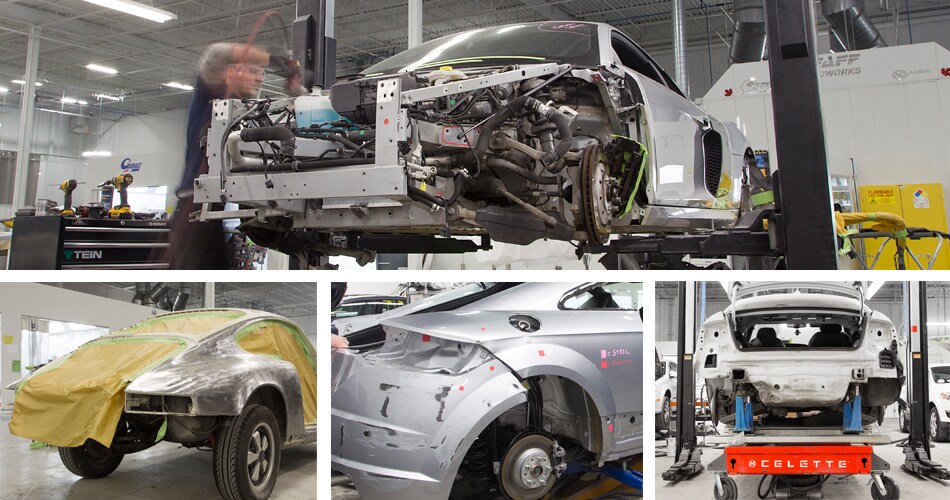 Collision Repair Equipment
Repairing a vehicle inside and out takes a substantial investment in tools and equipment, training and technology, and the use of OEM (original equipment manufacturer) parts, paint, and procedures.
We'll fix your car the way it was built with modern multi-material structures and the parts used to create it at the factory. Our Celette bench uses the same techniques to repair a vehicle's structure used to make it in the first place. Then, your car is refinished using factory finishes and procedures, ensuring it maintains the factory anti-corrosion warranty
The use of OEM parts and procedures also means every vehicle function - from locks and windows to blind-spot monitoring, lane departure warning, parking sensors, and rear-view camera works correctly.
Schedule Vehicle Repair at Our Certified Collision Centre
At Pfaff Autoworks, we're dedicated to returning your vehicle to its original condition, both inside and out. When Markham and Vaughan, ON, drivers need collision repairs, they can rely on our team of certified technicians.
Contact us to schedule an estimate or collision repairs today.