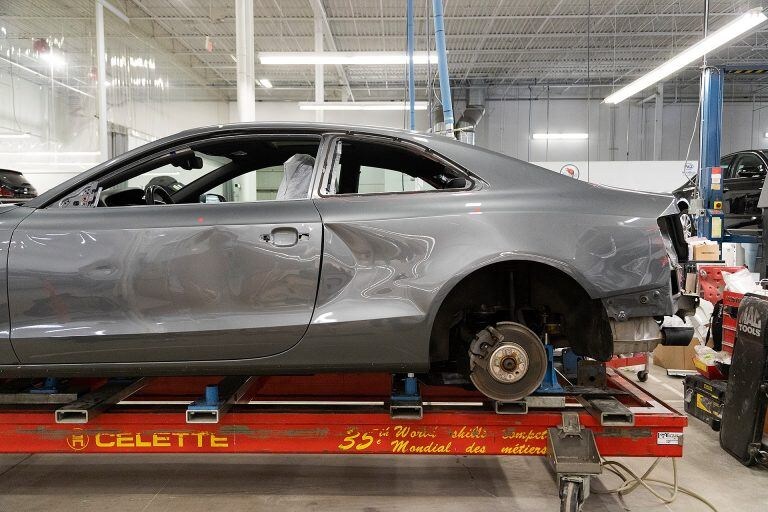 Benefits of professional auto body repair after a collision
When you have been in an accident and your car isn't in great shape, it is a good idea to bring your vehicle in to a professional collision repair shop. At Pfaff Autoworks, we take great pride in our collision repair services. With our skilled and highly trained technicians, combined with our state of the art machinery and equipment, we can have your vehicle repaired back to its manufactures standards in a timely manner!
Why choose Pfaff Autoworks for auto body repair
Pfaff Autoworks is revolutionizing the collision repair industry with brand new, state of the art technology. Our trained professionals will guide and assist you through the process of restoring your vehicle as if it were new. We specialize in collision repair, insurance claims, minor repairs, customizing cars, and everything in between. Whether it's restoring your classic car, custom repairs, or generic auto body work, we will help you safely get back on the road. We have been providing the highest level of auto body work to Vagab residents for many years now.
Don't wait! Unfixed damage could lead to more serious problems
Even a small ding or scrape can eventually develop into more serious damage. Such damages may even creep upon the car without displaying any visible signs until it's too late. Those in auto body technician careers are likely to know that, for example, fender damage can lead to water being able to access a car's internal structure, which can in turn cause corrosion. Preventing such problems is quite a compelling reason for future clients to opt for timely auto body repair.
Work on the body of your vehicle
Any dent or scratch repairs to body panels are completed, and if needed the panels are reattached to the outside of your car. If any panels are too damaged and the work order calls for new ones, those are attached as well. Once reassembly is complete the next step is painting of repaired panels: this requires masking of the nearby parts that don't need painting. The surfaces to be painted are cleaned and prepared, and your car is moved to the painting station.
Once your car is fully painted and cleaned, it's time for any final checks the repair shop provides (like wheel alignment) and a test drive. If everything is confirmed fixed then you are notified to come pick up your car.
The reasons why someone would want to choose a professional auto body repair shop are plenty. At Pfaff Autoworks, our team is dedicated to providing the highest quality results for our customers vehicles. Click here to find our contact information, schedule an appointment, or to speak with a representative.